Talent Passport – innovative business project
France attracts start-uppers like you!
The establishment of your project in France is possible thanks in particular to the "Passport talent" and to a specific legal framework. Let us guide you!
British citizens must now also apply for a residence permit as provided below for any arrival after January 1, 2021. Specific requirements apply to Algerian citizens.
Eligibility
Founders of foreign start-ups can obtain the multi-year residence permit "Talent Passport for Champions of innovative economic projects recognised by a public body " if they meet the eligibility conditions specific to the reason for their stay in France.
Startup founders may be granted a multiyear residence permit marked «Talent Passport innovative project » if they provide evidence of:
An innovative business project they want to develop in France ;
Recognition of the project by a public-sector body ;
Sufficient annual financial means corresponding to the statutory national minimum wage (SMIC), i.e. € 18,654.96 as of January 1, 2021.
Helpful tip : Founders of international start-ups selected by an incubator labeled French Tech may obtain the "Talent Passport  marked innovative economic project"  under the French Tech Visa for Founders procedure.
Eligibility
The validity period of this permit depends on the nature, characteristics and duration of the project.
The maximum duration is four years on a renewable basis.
Helpful tip: If the planned length of stay is less than a year, foreign employees can apply for a long-stay visa equivalent to a residence permit ('VLS-TS') marked Passeport Talent ('Talent Passport').The VLS-TS is validated directly online upon arrival in France via the dedicated platform.
This is valid for up to 12 months. If foreign nationals wish to stay in France beyond this period, they may apply for a four-year Talent Passport residence permit.
Validate your VLS-TS online !
Procedure
Where to apply
You live outside France
Applicants living outside France should apply to the French consular authorities in their usual place of residence.
The application for a "Talent Passport" long-stay visa authorising entry into French territory for the foreign company leader is initiated on the official France-visas website. Read on to find out all the details.
Upon arrival in France, you will be entitled to work immediately with this visa.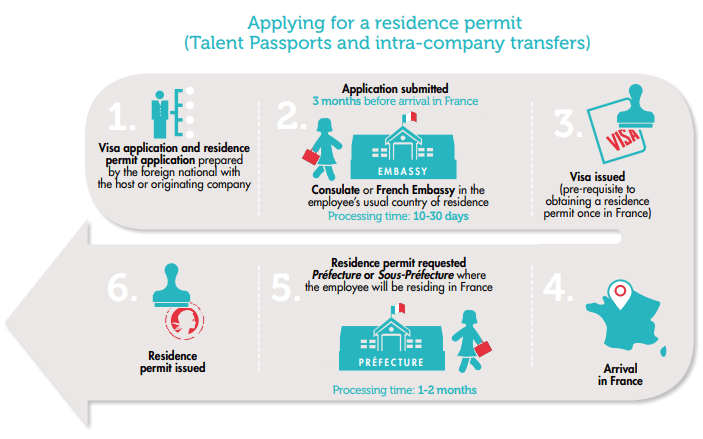 You are already living in France
If applicants are already living in France under a different type of residence permit, they will need to apply to the Préfecture (office of the Prefect, the local representative of national government) in their place of residence for a change of status. They will be asked to prove eligibility for the desired residence permit.
When should I begin the procedure?
The procedure should be initiated no earlier than three months before the date of arrival in France.
If the applicant is already living in France, the procedure should be initiated two months before the previous residence permit expires.

Documents required
Applicants can obtain a list of exactly which documents are required for a residence permit application from the authority responsible for handling the application and on  France-visas.gouv.fr.
As an indication, you can download a list of documents that must be submitted with an application for a 'Talent Passport –  innovative business project' » .
List of documents
Cost of the residence permit
Applicants must pay a tax of €200 to the French Immigration and Citizenship Office (Office français de l'immigration et de l'intégration – OFII) when the permit is issued. In addition to this tax, stamp duty of €25 is also charged on residence permits.
In addition to this administrative cost of €225, the long-stay visa authorizing entry into France costs €99.
Extending your stay
Renewal
Renewal applications must be submitted in the two months before the residence permit expires.
Applicants must produce documents showing that they continue to meet the conditions of issuance of their permit.
Applicants wishing to continue their business creation endeavour must be able to:

prove the reality and seriousness of their work (state of progress, work accomplished, actions still to be carried out…) substantiating the extension of the project beyond the planned duration;
provide the letter from the public body having recognised the initial project and attesting to the reality, seriousness of the project and its prospects for completion

Applicants having created or still creating their business in connection with the project submitted must be able to prove the company's registration (articles of association, registration certificate, i.e. extract of "K" or "Kbis" form).
Administrative cost: €225
Change of status
In the event of a change in the holder's professional circumstances, a change of status may be considered at the Préfecture in the two months before the residence permit expires. They will be required to prove eligibility for the new residence permit requested.
Residence card
At the end of 5 years of legal and uninterrupted residence in France, workers in this category may apply for the resident card entitling the bearer to reside on French soil and engage in any professional activity (provide they hold the necessary diplomas, if working in a regulated professions).
Residence cards are issued for 10 years we have a renewable basis.
Is your family coming with you ?
The spouse and dependent minor children of the holder of a Talent Passport permit have accompanying family status.
The spouse should apply, and will be issued with a "Talent Passport – Family" residence permit. This permit authorizes the family to stay and undertake any paid employment in France as long as the foreign employee's residence permit is valid.
Administrative cost: €225 for the spouse's residence permit and €99 per visa issued to each member of the accompanying family.