Talent Passport 'Business investor'
Are you a citizen of a non-member State of the European Union, the European Economic Area or Switzerland, looking to invest in France with the intention of establishing yourself in the country?
Foreign company investors who are nationals of the EU, EEA or Switzerland are automatically entitled to pursue their activity in the same way as a French national, without any other formality.  British citizens must now also apply for a residence permit as provided below for any arrival after January 1, 2021. Algerian citizens are subject to the stipulations of the French-Algerian Agreement (refer to our fact sheet on the topic).
For foreign executives from outside the EU, the EEA or Switzerland wishing to invest in the French economy and settle in France, a specific residence permit exists: the multi-year Talent Passport 'Business investor' residence permit.
Eligibility
Foreign investors wishing to settle in France to undertake a planned investment can apply for a Talent Passport marked 'Business investor' if they proceed to a direct investment either:
Personnally; or
Via a company they control; or
Via a company in which they have at least a 30% shareholding.
They also need to meet the following cumulative criteria:
They are creating or protecting, or committing to create or protect, jobs within the four years following the investment;
They are investing, or committing to invest, at least €300,000 in fixed tangible or intangible assets.
Direct investments include share capital investments, reinvested earnings or 'loans between affiliated companies'. Exclusively financial investments are therefore outside the scope of the scheme.
Length of stay
The maximum duration is four years on a renewable basis.
The validity period of this permit is variable and depends on the nature, characteristics and duration of the planned investment in France.
Helpful tip: If the planned length of stay is less than a year, foreign investors can apply for a long-stay visa equivalent to a residence permit ('VLS-TS') marked Passeport Talent ('Talent Passport').
This is valid for up to 12 months. If foreign nationals wish to stay in France beyond this period, they may apply for a four-year Talent Passport residence permit.
Validate your VLS-TS
Procedure
Where to apply
You live outside France
Investors living outside France should apply to the French consular authorities in their usual place of residence.
The application for a "Talent Passport" long-stay visa authorising entry into French territory for the foreign company leader is initiated on the official France-visas website.
More information on France-visas
Once in France, the residence permit is issued to the investor by the Prefect of their département of residence upon presentation of the long-stay visa and other justifying documents already provided to the Consulate.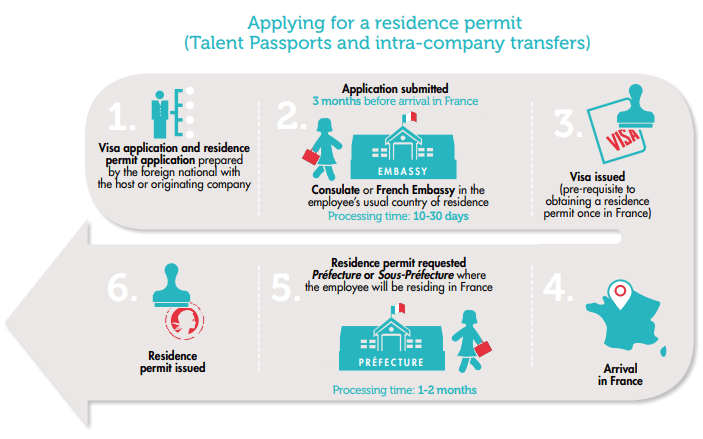 You are already living in France
If applicants are already living in France under a different type of residence permit, they will need to apply to the Préfecture in their place of residence for a change of status so as to obtain a 'Talent Passport – Business investor'.
When should I begin the procedure?
The procedure should be initiated no earlier than three months before the date of arrival in France.
If the applicant is already living in France, the procedure should be initiated two months before the previous residence permit expires.

Documents required
Applicants can obtain a list of exactly which documents are required from the authority responsible for handling the application and on France-visas.gouv.fr
As an indication, you can download a list of documents that must be submitted with an application for a 'Talent Passport' residence permit for a business investor.
List of documents to provide
Cost of the residence permit
Foreign investors must pay a tax of €200 to the French Immigration and Citizenship Office (Office français de l'immigration et de l'intégration – OFII) when the permit is issued. In addition to this tax, stamp duty of €25 is also charged on residence permits.
In addition to this administrative cost of €225, the long-stay visa authorizing entry into France costs €99.
Extending your stay
Renewal
Renewal applications must be submitted in the two months before the residence permit expires.
Applicants must produce documents showing that they continue to meet the conditions of issuance of their permit ainsi qu'une attestation d'activité émanant de son employeur ou une attestation d'activité professionnelle des 12 derniers mois téléchargée par le salarié sur le site mesdroitssociaux.gouv.fr.
Administrative cost: €225
Change of status
In the event of a change in the holder's professional circumstances, a change of status may be considered at the Préfecture in the two months before the residence permit expires. They will be required to prove eligibility for the new residence permit requested.
Residence card
At the end of 5 years of legal and uninterrupted residence in France, workers in this category may apply for the resident card entitling the bearer to reside on French soil and engage in any professional activity (provide they hold the necessary diplomas, if working in a regulated professions).
Residence cards are issued for 10 years we have a renewable basis.
Is your family coming with you?
The spouse and dependent children of the holder of a Talent Passport permit have accompanying family status.
The spouse should apply, and will be issued with a 'Talent Passport – Family' residence permit. This permit authorizes the family to stay and undertake any paid employment in France as long as the foreign employee's residence permit is valid.
Administrative cost: €225 for the spouse's residence permit and €99 per visa issued to each member of the accompanying family.