Declaring income online
Did you file an initial paper tax return the year after arriving in France? You can now declare your income online quickly and easily!
The online declaration is pre-populated with information supplied to the tax authorities as part of previous tax returns. You can find the online form by logging into your account on the government tax site www.impots.gouv.fr.
Taxpayers just need to check the information that has been stored, their family status and their address. You can alter the saved information at any time should you need to.
You must also declare any additional income online.
Where to find your tax number?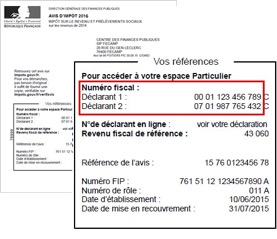 The tax number is indicated on the tax notice received by taxpayers in previous years and allows them to access a personal area of the official website] www.impots.gouv.fr.