News
17 January 2022
COVID-19: Entry and stay of foreign talents in France
Conditions of travel to France from abroad
As of June 9, 2021, travels between third countries and France are authorized according to the health situation of the countries of origin and the vaccination of travelers. The countries of origin of travelers have been classified by the authorities according to their epidemic situation and are subject to differentiated measures. The lists of countries are subject to change depending on the evolution of their epidemic situation.
As of December 4, 2021, new travel rules come into effect in order to limit the spread of the Covid-19 and a new classification of countries appeared : the "scarlet red" list of countries.
List of countries classified according to their health situation
"Green" countries:

the Covid-19 is not actively circulating.
This list includes: the European area (Andorra, Iceland, Liechtenstein, Monaco, Norway, San Marino, Switzerland and Vatican City), Argentina, Australia, Bahrein, Hong-Kong, Japan, Kuwait, New Zealand, Qatar, Rwanda, Saudi Arabia, Senegal, South Korea, Taïwan, United Arab Emirates, Uruguay and Vanuatu.
"Amber" countries:

the Covid-19 is circulating actively but moderately without the detection of variants of concern.
This list includes: all non-EU countries except those on the "green" and "red" country lists.
Countries subject to specific measures : Travels to and from the United Kingdom are currently subject to specific measures due to the active circulation of a variant of concern.
 "

R

ed" countries: the Covid-19 is actively circulating and several variants of concern have been identified.
This list includes: Afghanistan, Belarus, Botswana, Democratic Republic of Congo, Eswatini, Georgia, Lesotho, Malawi, Mauritius, Moldavia, Montenegro, Mozambique, Namibia, Nigeria, Pakistan, Russia, South Africa, Suriname, Tanzania, Turkey, Ukraine, United States, Zambia and Zimbabwe.
"Scarlet red" countries : Particularly active virus circulation and/or discovery of a variant likely to present a risk of increased transmissibility or immune escape.
There are currently no countries classified as "scarlet red".
For more information on the situation and the new travel conditions, please visit the government website.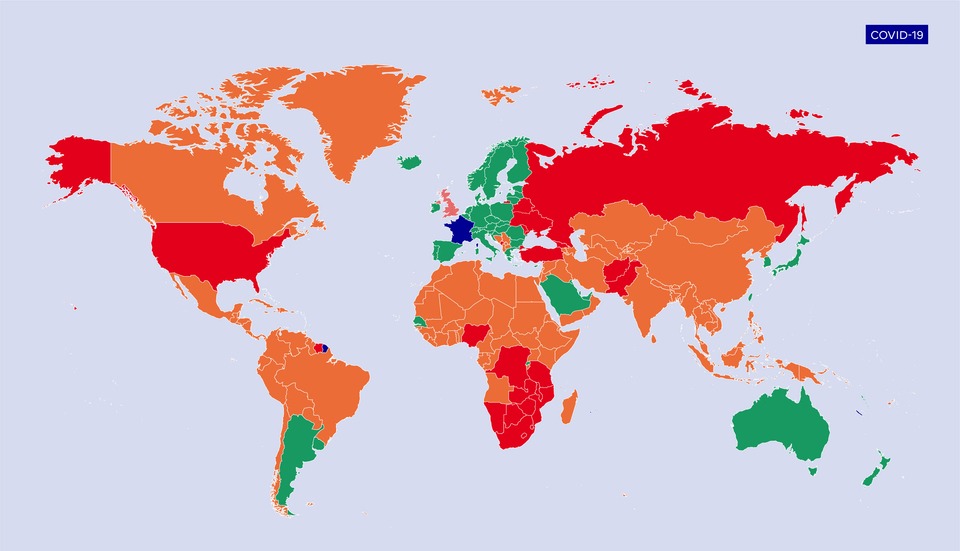 Conditions of travel on the French territory
A "health pass" is now required to access some specific places in France. 
Since August 9, 2021, it must be presented to access:
trade fairs and shows, and to professional seminars ;
leisure and cultural venues (theaters, amusement parks, concert halls, festivals, sports halls, cinemas, etc.);
catering facilities (cafés, restaurants, etc.), with the exception of collective catering or takeaway sales of prepared meals, professional road and rail catering, room service in hotel restaurants and bars, and non-commercial catering, in particular the free distribution of meals;
long-distance travels on the national territory (domestic flights, TGV, Intercité and night trains, inter-regional buses);
health, social and medical services and establishments (people accompanying or visiting people in these services and establishments as well as those who are admitted for scheduled non-urgent medical care);
shopping centers of more than 20,000 square metres, by decision of the prefect of the department.
As of September 30, 2021, the presentation of a "health pass" is also mandatory for minors from 12 years and 2 months to 17 years old.
In order to travel and access the overseas departments and regions (DROM), different sanitary measures must be respected depending on the destination.
Find all the information about the "health pass" and the different travel conditions on the "I am currently in France" page.
Travel conditions to go outside the European area
Any vaccinated traveler (except from the United Kingdom as of December 18, 2021) will be able to travel outside the European area without providing a compelling reason.
Any non-vaccinated traveler wishing to travel to a country outside the European area will have to justify a compelling reason except if he/she goes to a country on the "green" list. The relevant travel certificate can be downloaded here.
It will also be necessary to inquire about health measures to be respected in the country of destination.
In France or abroad, you are wondering about your situation? Let us guide you and do not hesitate to contact us for further details through our contact form. A free hotline is also available: 0800 130 000.
Contact us
You are a company? Please do not hesitate to check also our FAQ on financial and social governmental measures on Choose France website.
Choosefrance.fr
"Coronavirus: Advice for Foreign Nationals" also on the website of the Ministry of Europe and Foreign Affairs
>>> Click here